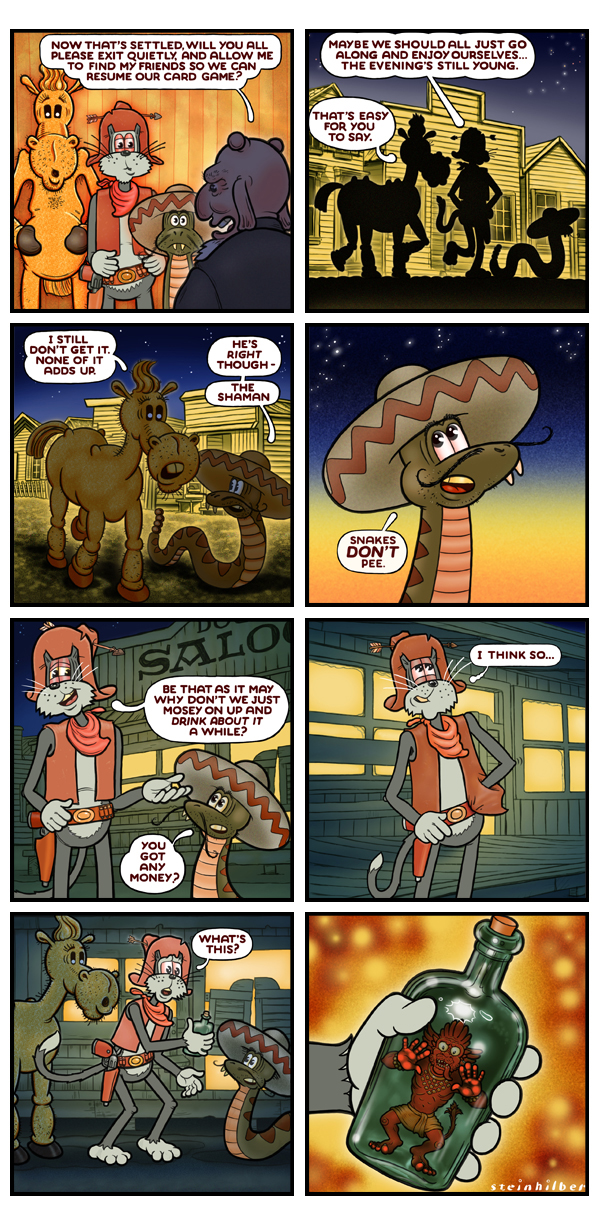 Dogbad 51 – The Snake Shaman kicks our friends out onto The Street
1. The Snake Shaman finally rises from his seat to firmly but politely explains to McKlaw, Señor Hoss and Señor Hsss that they must leave, and pronto.The three stand mute, like chasened children. "Now that's settled", the Shaman entreats, "will you all please exit quietly and allow mw to find my friends so we can resume our card game?"
2. McKlaw and the two Señors retreat back onto the street. It is now dark, past ten o'clock. Kit is philosophical, as usual: "Maybe we should all just go along and enjoy ourselves… the evening's still young." "That's easy for you to say", grumbles Señor Hoss.
3. Hoss is mired in doubt about what it all means. "I still don't get it. None of it adds up." Señor Hsss feels happier, convinced that the mysterious sage has not only relieved their annoying condition, but imparted a deep life-lesson to them in the process. "He's right though-" says Hiss emphatically, "the Shaman…"
4. "Snakes DON'T pee", he warbles, eyes heavenward.
5. "Be that as it may", interrupts McKlaw, "why don't we just mosey on up and drink about it a while?" Kit alludes to the immediate proximity of the Dogbad Saloon, which is currently open for business as usual. "You got any money?", asks Señor Hsss.
6. Kit reaches deep into his side vest-pocket, feeling something of weight inside. "I think so", he replies.
7. McKlaw hefts something inside the pocket that he doesn't remember putting there. He pulls it out and gazes at what he now has in his hand- a green glass pint liquor bottle with something inside that's definitely not liquor! "What's THIS?" he asks aloud.
8. The bottle lets off an eerie glow and feels uncomfortably warm to the touch. Corked there inside the bottle, peering back at the world into the eyes of the very same three undocumented cartoon characters who thought they'd seen the last of him, they see the crouching figure of Dipple-O-Doakus, the Debbil himself!