Kit, Hoss, the Debbil and Hsss crash the game and confront the Snake Shaman.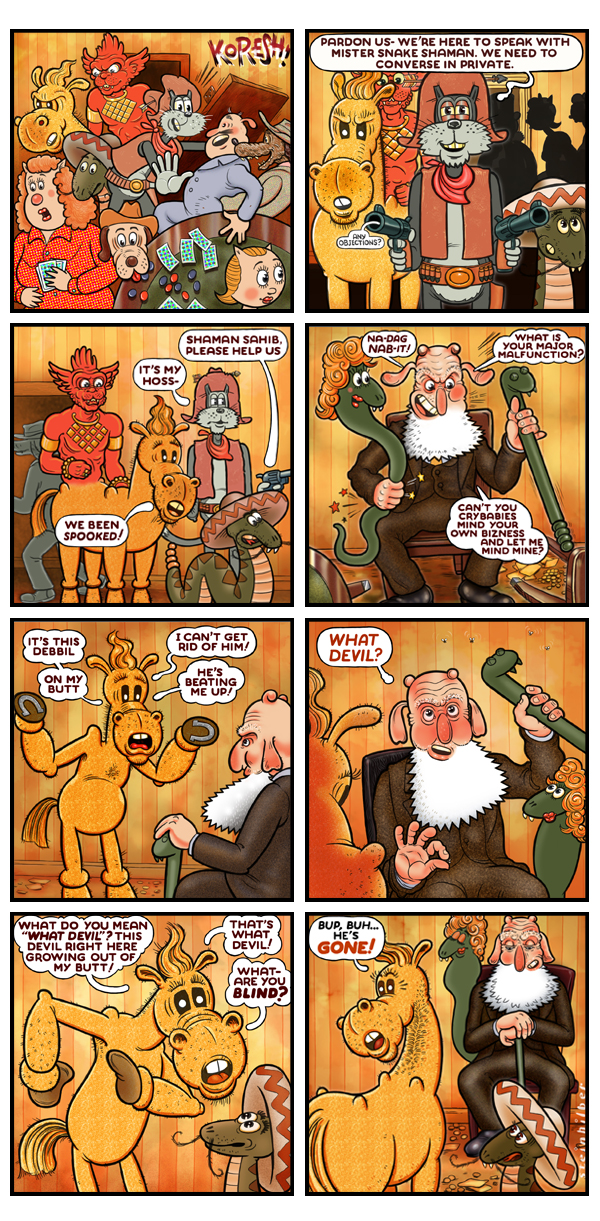 1. Suddenly and without warning, Kit McKlaw, Señor Hsss, Señor Hoss and the Debbil smash down the door of the private room. The partiers flee in panic.
2. As the room quickly empties, Kit draws a pair of revolvers. "Pardon us- we're here to speak with Mister Snake Shaman." He stands audacious- flanked by Señor Hsss, Señor Hoss and the Debbil- facing the room's two remaining occupants- the seated Snake Shaman and his concomitant serpentess Ms Condomleeza Cobra. McKlaw continues,"We need to converse in private." "Any objections?" adds his pistol.
3. With the last guest out the door, our friends can let down their bluff. "Shaman Sahib, please help us", pleads Señor Hsss. McKlaw continues, "It's my Hoss"; "We've been spooked" whinnies Señor Hoss.
4. "Na, DAG-NAB-it!" exclaims the cross Shaman. "What is your major malfunction? Can't you crybabies mind your own bizness and let me mind mine?" He remains seated, and does not offer a chair to anyone. Manners hardly matter at this juncture- all the furniture save his own seat is strewn in bits and splinters around the room.
5. Señor Hoss steps forward. "It's this Debbil on my butt, I can't get rid of him! He's beating me up!" Mister Snake Shaman looks down impassively.
6. Miss Cobra looks up at the Snake Shaman as he disctacts himself by catching flies. At length he replies with a question to Hoss: "What Devil?"
7. Señor Hoss snaps back at the Shaman: "What do you mean, "What Devil?" -This devil right here growing out of my butt! -That's what devil! Are you BLIND?" Hoss continue pointing to his posterior without glancing back to see the Debbil has suddenly removed himself. What the devil is going on?
8. Hoss turns his attention to his own backside and is momentarily rendered speechless wirth surprise. "Bup, buh, he's GONE!" The Snake Shaman remains sitting, Ms Cobra silent by his side. Señor Hsss looks on, himself puzzled.