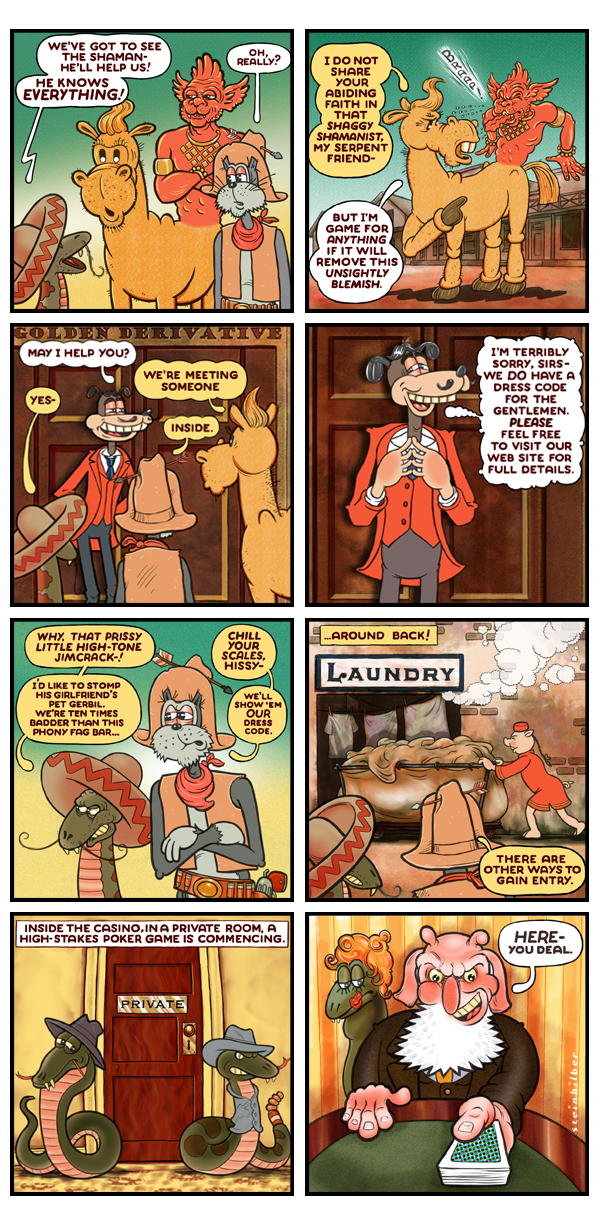 Dogbad 45 – Meet Mister Duckbutter
1. Señor Hsss is rattling with excitement over the unexpected sight of his serpent-guru, the Snake Shaman. "We've got to see the Shaman- He'll help us! He knoes EVERYTHING!" "Oh, really?", replies Kit McKlaw. Kit's not so sure. He's had dealings with the Shaman once before, and regards him as little more than a cranky old fool who's spent too much time in the sun. Hoss is ambivalent, and looks askance. The Debbil just looks.
2. Señor Hoss speaks his equine mind: "I do not share your abiding faith in that shaggy shamanist, my serpent friend, but I'm game for anything if it will remove this unsightly blemish." He points his hoof at the execrable attachment on his back, and the Debbil responds with a razzle-berry in Hoss's direction. How could an entity so old act so immature?
3. The contradistinctive quartet approaches the front entrance to the Golden Derivative Guarenteed Safe Gambling Casino. The polished, oversized double doors are guarded by a thin, over-dressed doorman. An obnoxiously obsequious creature, one Mister Herschel Duckbutter, snaps to attention and robotically dribbles out what is perhaps the slimiest expression in contemporary language: "May I help you?" "Yes-" replies Señor Hsss, "We're meeting someone" continues Hoss, "Inside" finishes McKlaw.
4. Mister Duckbutter gleefully recites his well-rehearsed, opprobrious address: "I'm terribly sorry, sirs- we DO have a dress code for the gentlemen. Please feel free to visit our website for full details."
5. Our boys do not resond well to this approach. "Why that prissy little high-toned jimcrack-!" seethes Hsss. "I'd like to stomp his girlfriend's pet gerbil. We're ten times badder than this phony fag bar." "Cool your scales, Hissy-" replies Kit, "we'll show 'em OUR dress code." McKlaw has no time for gerbils. Neither of them have a moment to waste trying to imagine what a Duckbutter's girlfriend would look like, if he had one.
6. Kit and Hsss step around back of the building where a steady traffic of workers and over-loaded linen trolleys move in and out of the hotel's steamy laundry complex. "There are other ways to gain entry" notes Kit McKlaw.
7. Inside the casino, upstairs, a dangerous looking pair of serpent gunsels guards the door of a private room, in which a high-stakes poker game is about to be underway.
8. At the head of the table sits the smiling Snake Shaman, his girl on his arm as he proffers a fresh deck of cards to his off-camera opponent: "Here- you deal."