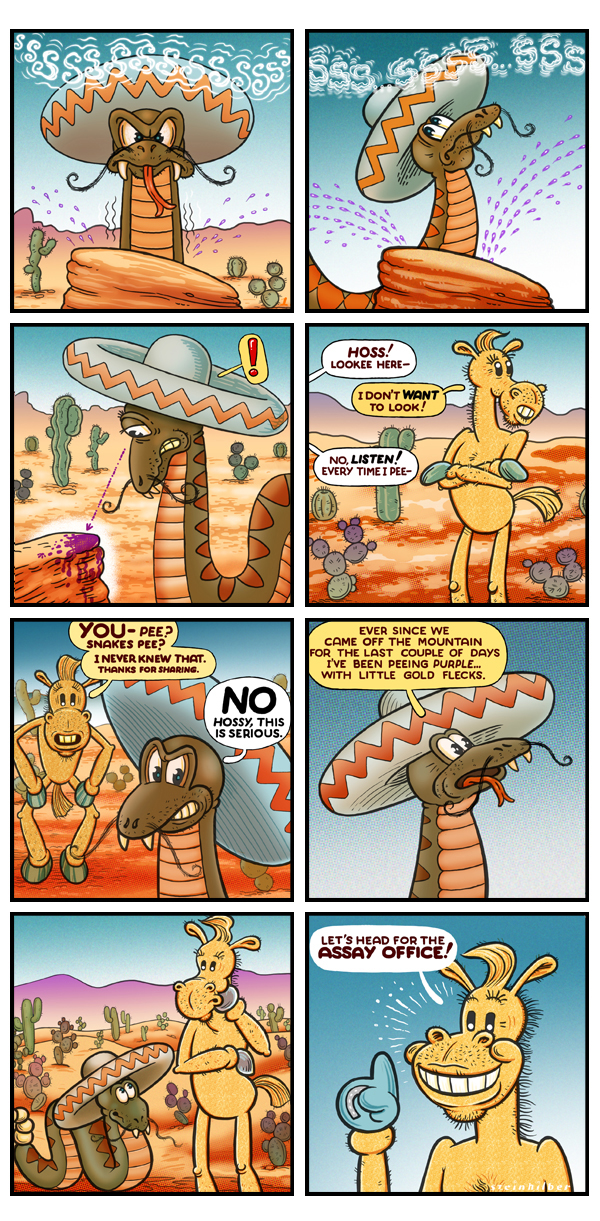 Dogbad 36 – Purple Pee!
1.Señor Hsss is staring from behind a boulder. He flicks his tongue as his snake eyes burn through you."SSSSSSSSSSSSSS!"
2.Señor Hsss is grimacing and straining- streams of purple droplets spray the rock:"SSS…SSSS…SSS!"
3.Señor Hsss has finished peeing on the rock. He is disturbed by what he sees- his urine has turned a bright purple, flecked with gold!
4.He yells to Señor Hoss standing nearby. "HOSS- Lookee here!" Hoss: "I don't want to look!" Hsss:"NO, listen! Every time I pee-"
5.Hoss interrupts: "YOU, PEE? Snakes pee?" He continues in a sarcastic tone of voice. "I never knew that. Thanks for sharing." "NO" exclaims Señor Hsss, "Hossy, this is serious."
6.Hssy continues,"Ever since we came off the mountain for the last couple of days I've been peeing PURPLE… with little gold flecks". His concern is evident.
7.Señor Hoss stands silently regarding this development. Señor Hsss is worried- he looks up at Señor Hoss, hoping his equine friend will proffer some good solution.
8.Señor Hoss has a sudden Eureka: "Lets head for the ASSAY OFFICE!"