The Debbil blows snakes to sleep in the hotel hall…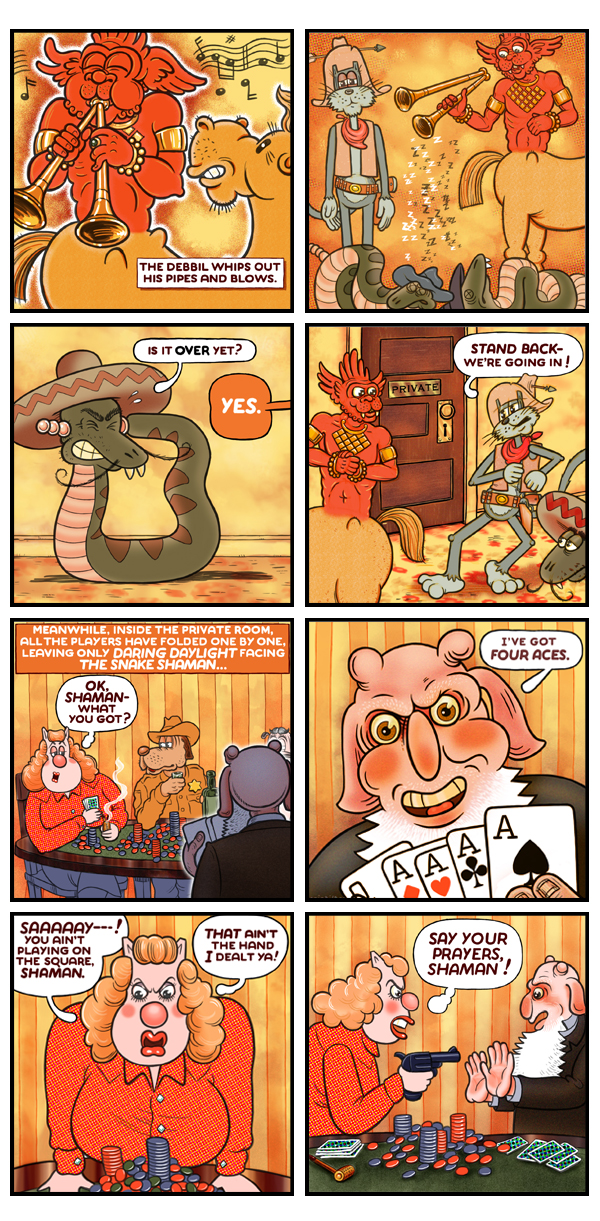 1. The Debbil whips out his golden pipes and blows with all his cunning! His Mephistophilean melodies are particularly purposed to appeal to the siesta-instincts of the serpentinian Central Nervous System.
2. The two gangster-snakes swoon and drop like real estate prices. Kit and the Debbil calmly regard the sleeping serpents. It does not appear they will regain conciousness any time soon.
3. Not everyone grooves to the Debbil's music, though. Señor Hsss has stuffed his rattle in his ears lest he succumb to the soporific sonorities of this infernal brass section. "Is it over?, he asks, grimacing. "Yes", McKlaw assures him.
4. The Debbil and Hoss, Hsss and McKlaw brace for Kit to bust down the door. "Stand Back- we're going in!"
5. Meanwhile, inside the private room, Daring Daylight dominates the game. One by one the players have folded, leaving only the Snake Shaman to match wits with the baddest card strategist of her generation. "Ok, Shaman, what you got?" she asks languidly.
6. The Shaman displays his hand with a bold mesmeric glare: "I've got FOUR ACES!"
7. Daring Daylight faces him down with all the focused resolution of a cross Macedonian Phalanx: "SAAAAAAY! You ain't playing on the square, Shaman! THAT ain't the hand I dealt ya!"
8. Before he can reply, the Snake Shaman finds himself face-to-face with a loaded, blue steel Winchester Glock Beretta Smith & Wesson Colt .45 revolver! This old man does not like them apples. Daylight calmly commands him: "Say your prayers, Shaman". The cartoonist silently wonders to himself: "Is there such a thing as too much 'product-placement'?"