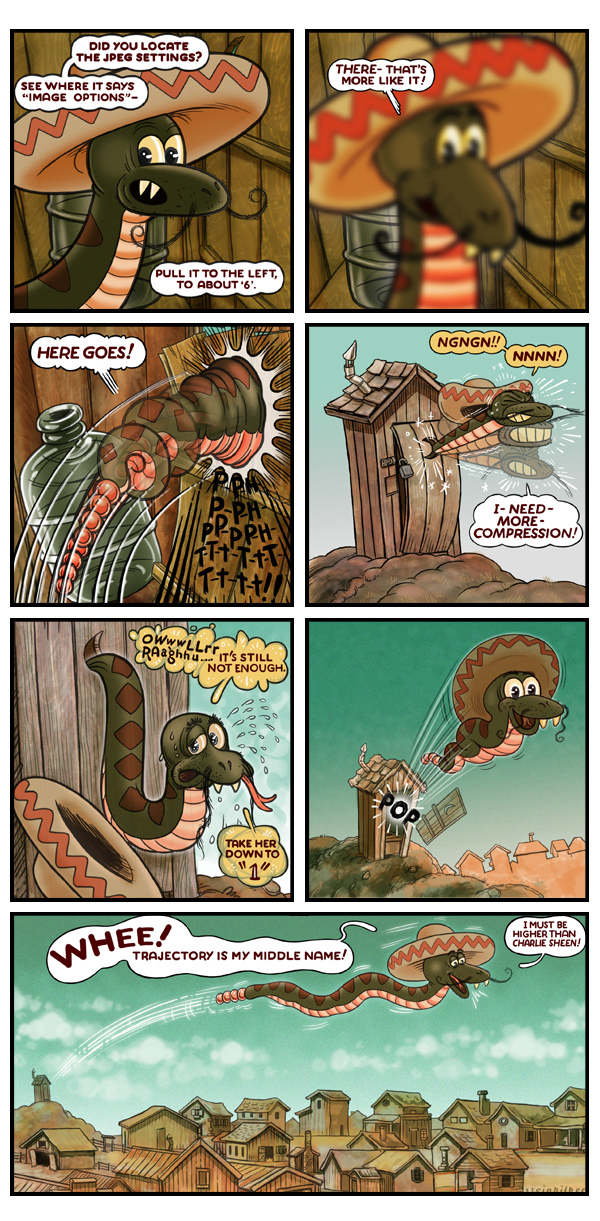 Dogbad 43 – "I must be higher than Charlie Sheen!"
1.Señor Hsss remains locked inside the outhouse (see episode 16). He's tried everything he could to get out. There's a small crescent-shaped air hole in the locked door. He's much too large to fit through the hole in the door; he only hurt his nose when he tried. Suddenly Hsss conceives a desperate gambit: if he receives enough JPEG COMPRESSION, maybe, just maybe, hecan squeeze through that hole! He turns toward the readers: "Did you locate the jpeg settings? See where it says "IMAGE OPTIONS"- PULL IT TO THE LEFT TO ABOUT '6′.
2.Señor Hsss gets compressed- he's gone all fuzzy. "THERE- That's more like it!"
3."Here goes!" Hsss takes aim and leaps at the small sliver of blue shining through the hole. "P-P-H-P-P-H-PP-PP-H-T-T-t-T-t-T-T-t-t-t!!" He hits the door hard.
4."NGNGN!! NNNN!" Señor Hsss has managed to squeeze about halfway through. "I- NEED- MORE- COMPRESSION!"
5.Hsss sags in exaustion: "OWwwLLrrRAaghhu….," he moans,"It's still not enough." Again he appeals to someone, anyone who is reading this strip."Take her down to '1′."
6.He pulls again with all his might. "POP"- Suddenly, he is sailing through the sky above the town!
7.Señor Hsss soars through the air above the town of Dogbad! "WHEE! Trajectory is my middle name! I must be higher than Charlie Sheen!"