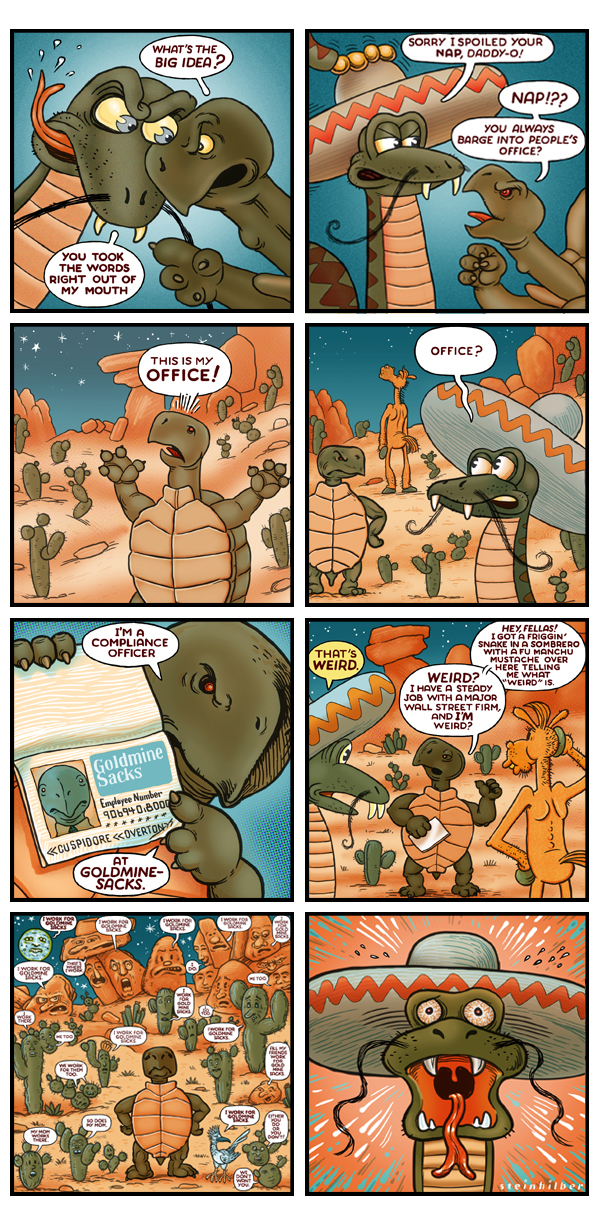 Dogbad 34 – Meet Overton Cuspidore!
1.Señor Hsss and the tortoise confront each other. "What's the big idea?", demands the tortoise. Señor Hsss replies: "You took the words right out of my mouth!"
2.Hsss picks up his sombrero and goads the tortoise with cool detachment: "Sorry I spoiled your nap, Daddy-o!" The Tortoise is losing control."NAP!?? You always barge into peoples' office?"
3."This is my OFFICE!" shouts the Tortoise. He is genuinely offended at what he considers an intrusion on his personal space.
4."Office?" Señor Hsss and Señor Hoss look around in wonderment. The desert around them does not resemble any office either of them has ever seen.
5.The Tortoise brandishes a passport-sized identification document bearing his picture, name and place of employment: "Cuspidore, Overton. Goldmine Sacks Employee Number 9069408000." "I'm a compliance officer at Goldmine-Sacks", he brags.
6."That's WEIRD", replies Señor Hsss. Cuspidore shoots back:"WEIRD? I have a stesdy job with a major Wall Street firm and I'm WEIRD?" He gestures behind with his thumb toward the assorted rocks and cacti and appears to address them:"HEY.FELLAS! I got a friggin' snake in a sombrero, with a Fu Manchu mustache over here telling me what "weird" is!"
7.Like a Greek chorus in a bad peyote trip, the entire landscape animates to exclaim as one being:"WE ALL WORK FOR GOLDMINE SACKS!"
8.Señor Hsss opens his mouth as if to scream in protest, but nothing comes out. His voice box is frozen. Who ever heard a talking snake scream, anyway?