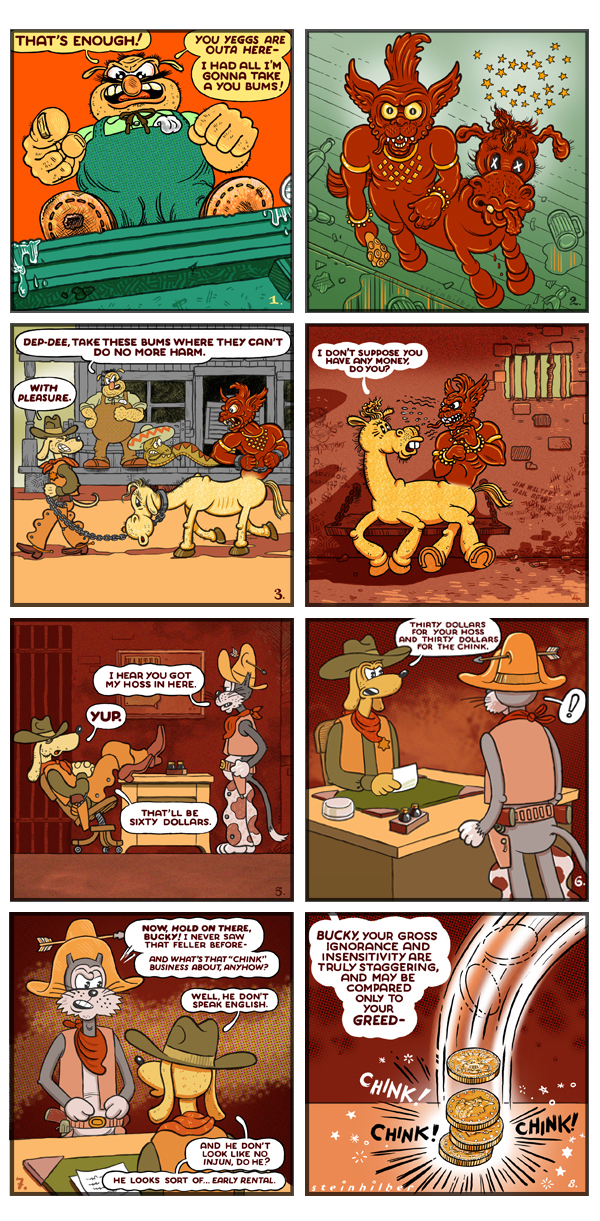 DOGBAD 38 – Discus Ted is Disgusted: "You yeggs are outa here!"
1."Discus" Ted is incensed at the noisy, raucus hubub whirling around poor Señor Hoss. He leaps up onto the bar and addresses the now bifurcated, beat-up equine. He doesn't care that this uninvited crimson combatant, this Crimson Debbil has, in fact, unexpectedly sprouted out of the very body of his victim- to Ted they are just a couple of unruly customers, and for Hoss, it's not his first offense. "That's enough! You yeggs are outa here- I had all I'm gonna take a you bums!"
2.The Debbil and Señor Hoss regard Discus Ted in silence. Hoss is reeling from the blows he has received from that mean ol' debbil.
3.Ted calls for Deputy Bucky Skank."Dep-dee, take these bums where they can't do no more harm." Could Ted be referring to harmine, or harmaline, the reduced hydrated form of harmine? Harmaline and harmine both flouresce under ultraviolet light, and this property could account for the strangely bright colour scheme we've experienced over the past several panels. Does the landlord spike the beer with the stuff? If so, why, this whole episode may be oneirophrenic! How do you know, dear readers, that you are not dreaming? "With pleasure!" Bucky replies as he leads the two malefactors to the Dogbad hoosegow.
4.Confined in the dark and filthy gaol cell, Hoss tries to make relevant small talk with the debbil: "I don't suppose you have any money, do you?" He knows what imprisonment is about. It's a way for the gaolers and their financiers to get money for nothing.
5.Help is on the way. Word travels fast in small towns, and Kit McKlaw has been looking all over Dogbad for Hoss. Now he's heard: Hoss is in Hoosegow-Hock for fighting with a strange-looking foreigner. McKlaw arrives at the gaol house to post bail for his Hoss. Kit doesn't like Bucky Skank, and the feeling is mutual. Kit: "I hear you got my Hoss in here."
Bucky: "Yup. That'll be sixty dollars."
6.Deputy Bucky continues: "Thirty dollars for your Hoss and thirty dollars for the Chink." Hearing this makes Kit angry. He is being baited.
7.Kit is not about to take this kind of abuse from a dog: "Now, hold on there, Bucky! I never saw that feller before- and what's that 'chink' business about, anyhow?" Bucky replies defensively: "Well, he don't speak English. And he don't look like no Injun, do he? He looks sort of… Early Rental."
8.Kit throws gold money on the desk. He has no time for banter with a half-wit mutt. McKlaw has the last word: "Bucky, your gross ignorance and insensitivity are staggering, and may be compared only to your GREED-"