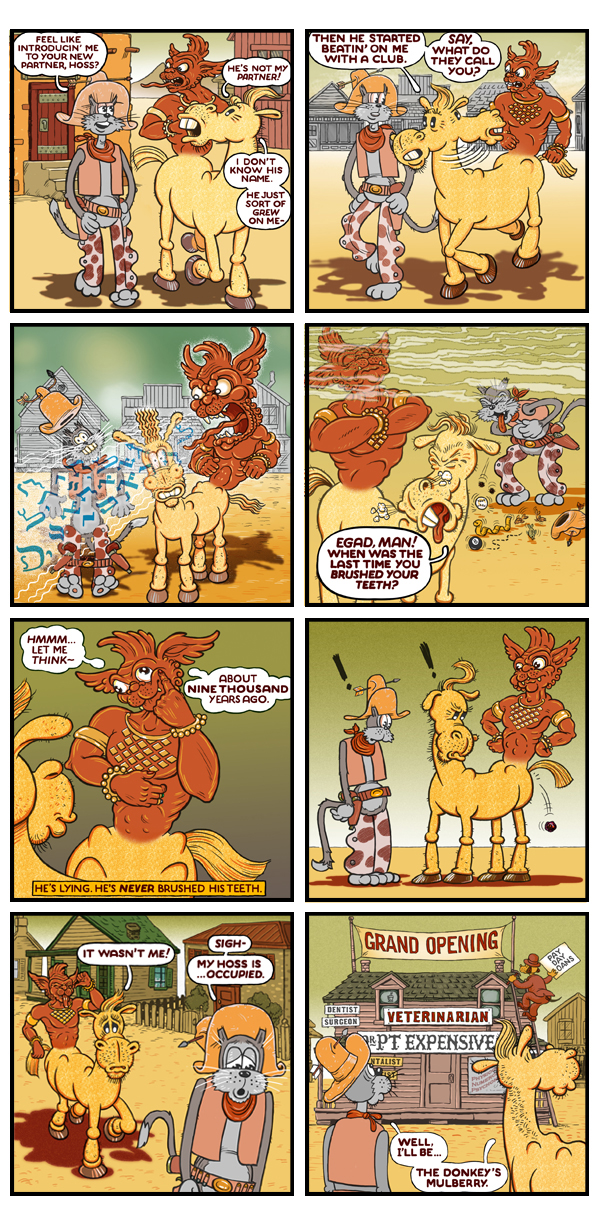 Dogbad 39 – The Devil's Halitosis
1.Fresh out of gaol on sixty dollars bail, Hoss is happy to see his friend Kit McKlaw. He still has the devil on his back, however. McKlaw: "Feel like introducin' me to your new partner, Hoss?" Hoss is not amused at the inference:"He's not my partner! He just sort of grew on me-"
2.Hoss continues,"Then he started beatin' on me with a club." He turns to the demon:"Say, what do they call you?"
3.The debbil releases a torrent of halitosical apocrypha from the Sixth or Seventh book of Moses that nearly suffocates Hoss and Kit, who barely manage to remain conscious.
4.The stench of the debbil's breath is overwhelming. Kit hurls hairballs, a baseball, an eightball, three goldfish, a tapeworm and other items. He clutches his stomach. Hoss gasps:"EGAD,Man! When was the last time you brushed your teeth?"
5.The debbil thinks for a moment before answering:"Hmm, let me think- About nine thousand years ago." He's lying. He's never brushed his teeth.
6.The debbil further makes his point by expelling something more unpleasant. Kit McKlaw and Señor Hoss can hardly believe their eyes. This is a comic strip! It's supposed to be "kid-friendly". The Debbil is friendly to no-one, however. They've got to get rid of this guy!
7."It wasn't me!" explains Hoss. McKlaw knows it wasn't. The debbil thumbs his nose at them. Kit looks down and sighs, "My Hoss is…occupied."
8.Suddenly they look up to see a new establishment across the street. "Well, I'll be…" says Kit. "The donkey's mulberry!" continues Hoss. There, before them sits a clap-board house-remodeled store-front displaying an array of large painted signs. At the top of a ladder a dog dressed in a kind of monkey suit wielding a hammer affixes a sign that reads "PAY DAY LOANS".