At the bar in the Dogbad Saloon, Kit McKlaw, Señor Hoss and Señor Hsss consider their prospects.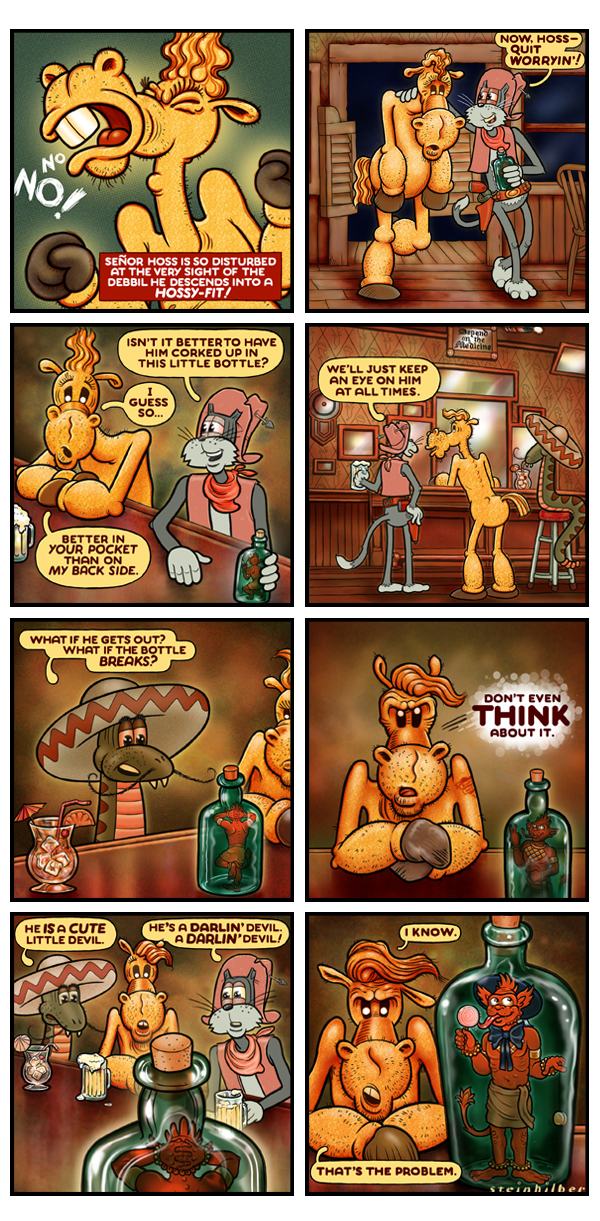 1. Señor Hoss sees the Debbil in the whiskey bottle and blows a fuse! The mere sight of the diabolic little guy drives him into a Hossy fit. Just when he thought he was finally relieved of his obnoxious presence!
2. They walk through the swinging doors into the Dogbad Saloon. Kit tries to calm Hoss. He throws his arm aroud Señor Hoss' neck and smiles reassuringly: "Now, Hoss- Quit worryin'!"
3. They belly up to the bar. "Isn't it better to have him corked up in this little bottle?" asks Kit. "I guess so…" replies Hoss, "better in your pocket than on my backside."
4. McKlaw hoists a beer and assures Señor Hoss that there is no need for concern so long as they are careful with the Debbil in the bottle: "We'll just keep an eye on him at all times."
5. Señor Hsss injects a note of caution. "What if he gets out? What if the bottle breaks?"
6. It's enough to chill Señor Hoss. "Don't even THINK about it", he asserts.
7. Señor Hsss, Señor Hoss and Kit McKlaw eye the pint-sized Debbil with a mixture of apprehension and fascination. Dipple O'Doakus can hear everything they say. He grins and poses inside the bottle. "He IS a cute little devil" observes Señor Hsss. "He's a darlin' devil- a DARLIN' devil!", agrees McKlaw.
8. "I know", grumbles Hoss. "That's the PROBLEM."