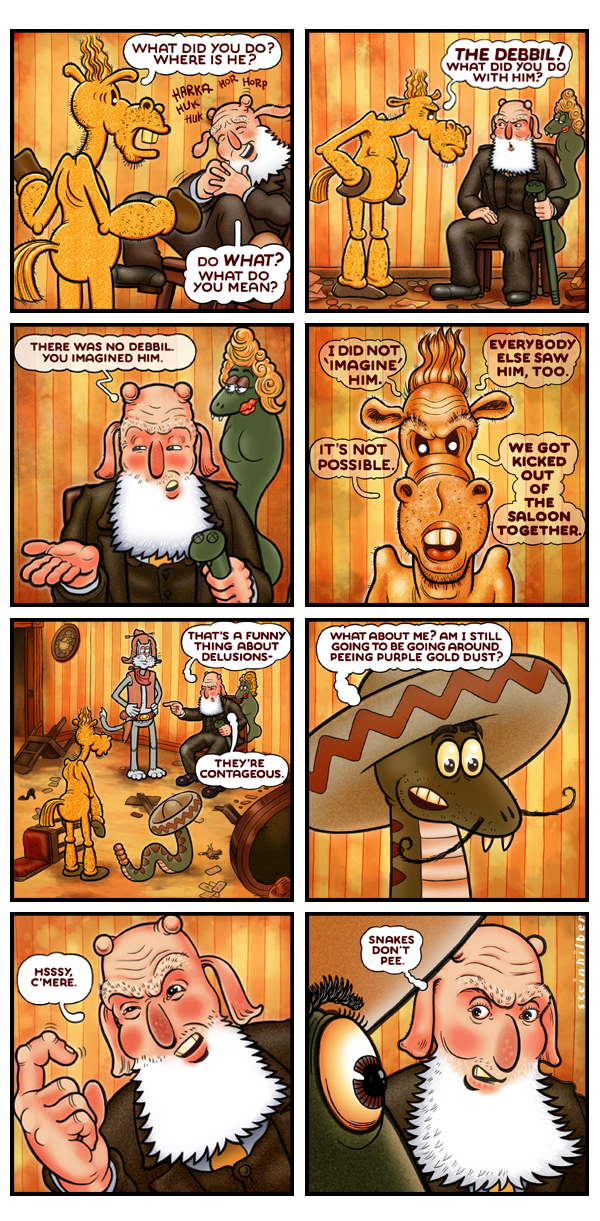 Dogbad 50 – "Snakes Don't Pee!"
1. Señor Hoss is beside himself with confusion- suddenly the Debbil is nowhere to be seen. He should be grateful enough to not ask any questions, but he puts it to the Snake Shaman: "What did you do? Where is he?" The Shaman is hugely amused at Hoss's consternation. He rolls about in his chair guffawing his peculiar Shaman's laugh: "HARKA HUK-HUK!, HORP-HORP!" "DO WHAT?what do you MEAN?", he replies disingenuously.
2. "THE DEBBIL! What did you do with him?" demands Hoss. "Why is this citizen making a fuss?", puzzles the Shaman. For a moment he stares back at Señor Hoss blankly.
3. The Snake Shaman explains it to Señor Hoss matter-of-fact-ly: "There was no Debbil. You imagined him."
4. Señor Hoss isn't buying. "I did not 'imagine' him", he retorts. "It's not possible. Everybody else saw him too. We got kicked out of the saloon together."
5. The wise Snake Shaman points out an oft-overlooked fact- a telling attribute of 'consensus realities': "That's a funny thing about delusions- they're contageous."
6. Señor Hsss interrupts: "What about ME? Am I still going to be going around peeing purple gold dust?"
7. The Shaman is nearly out of patience withthis lot. He wiggles a beckoning forefinger at the Sombrero'd serpent. "HSSSY, C'mere."
8. He puts it country-simple. "SNAKES DON'T PEE."