Dogbad 40
April 23rd, 2013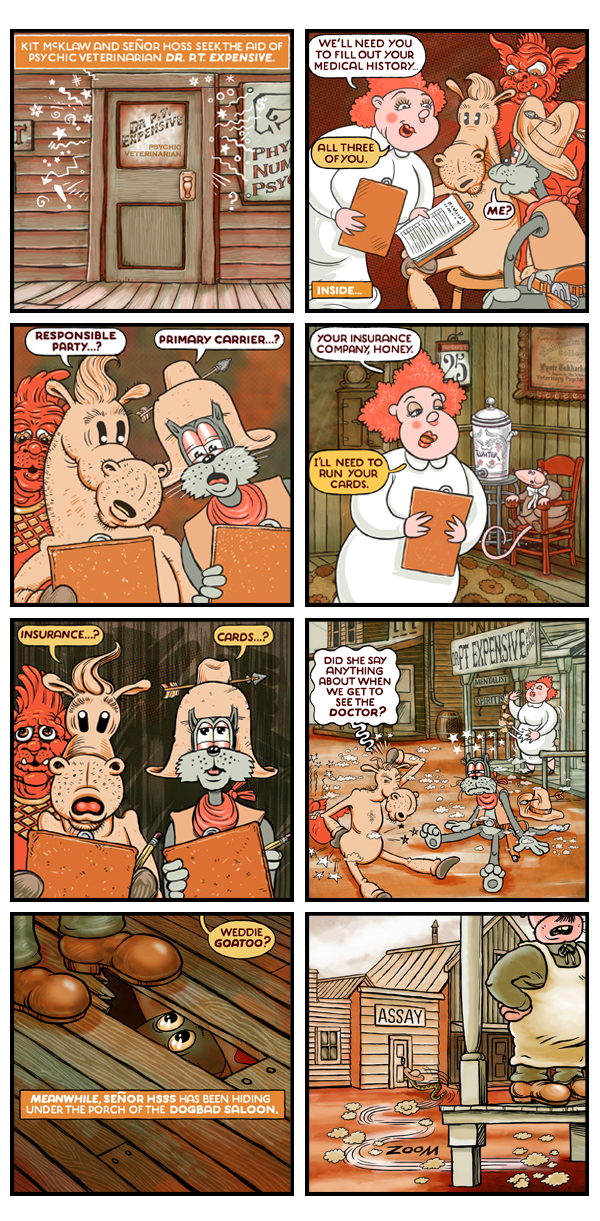 Dogbad 40 – The Psychic Veterinarian
1. Kit McKlaw takes Señor Hoss to see Psychic Veterinarian Dr P. T. Expensive, in hope that the doctor can separate Hoss from his unwanted visitor, the Debbil with bad breath.
2. Inside the doctor's office, Kit, Hoss and the Debbil meet the nurse, who hands them each a clipboard. "We'll need you to fill out your medical history… all three of you." McKlaw looks up and asks, "Me?"
3. The Debbil looks over Hoss's shoulder. Hoss and McKlaw scan the boilerplate medical history forms."Responsible party?""Primary carrier?"
4. Nurse attempts to clarify the salient points. "Your insurance company, honey.""I'll need to run your cards."
5. Neither Señor Hoss or Kit McKlaw are following her: "Insurance?" "Cards?"
6. Suddenly Señor Hoss and Kit McKlaw find themselves out in the street. "Did she say anything about when we get to see the doctor?", asks Hoss.
7. Meanwhile, Señor Hsss has been hiding under the porch of the Dogbad Saloon? "Weddie Goatoo?", Discus Ted wonders aloud as he paces up and down searching for the fugitive reptile.
8. When Ted's back is turned Señor Hsss races across the street to the Assay office.