Dogbad 35 – Hot Snow!
January 16th, 2013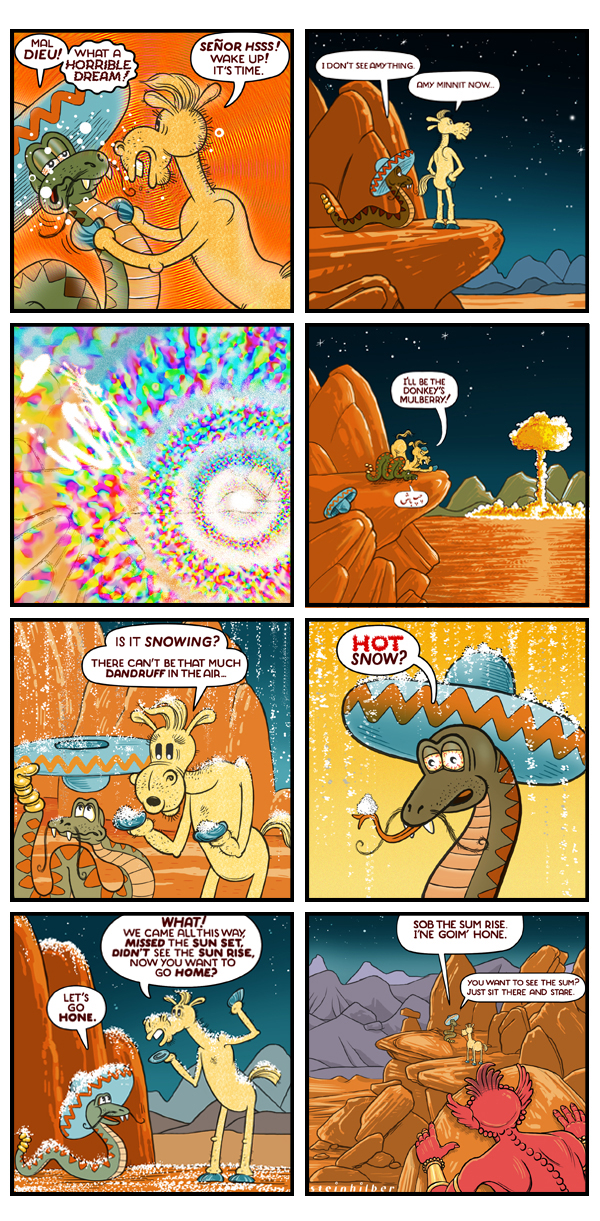 Dogbad 35 – Hot Snow!
1.Señor Hoss is shaking Señor Hsss. "Señor Hsss! Wake up! It's time!"Hsss is unknowingly dragged kicking and screaming from his nightmare of Goldmine Sacks."MAL DIEU! What a horrible dream!"
2.As Señor Hsss emerges from the hypnogogic world he sees that the two of them are standing on a redrock cliff,overlooking a gigantic peaceful valley."I don't see amything" says Hsss."Amy minnit now…" replies Hosss. It is past midnight, just before the first black thread of dawn.
3.WHOOOOMB! The peace of the valley is suddenly reduced to sub atomic particles.
4.Blinded by the unimaginably bright flash, the pair's eyes gradually regain function- they see a burning orange bright mushroom cloud growing from the opposite side of the valley. "I'll be the donkey's mulberry!" Stutters Hoss. "Chup Bash!" spits Señor Hsss.
5.Hoss and Hss both feel an unfamiliar warm sensation on their skins. The discover a shower of micro-fine white particulate matter descending from the first heaven. "Is it snowing?" asks Señor Hoss, "There can't be that much dandruff in the air!"
6.Señor Hsss catches some of the stuff on his tongue. It burns. "HOT SNOW?", he asks aloud.
7.Señor Hsss wants none of it. "Let's go hine!" he insists. Señor Hoss does not even consider it- he looks down at Señor Hoss, arguing: "WHAT! We came all this way, missed the sunset, didn't see the sunrise, and now you want to go HOME?"
8."Sob the sum rise" says Señor Hsss. "I'm goim' hone." It is not clear if he is transposing his consonants intentionally, or if he is displaying the effects of radiation sickness.He paraphrases an old song: "You want to see the sum rise? Just sit there and stare." In the foreground, a red-complexioned stranger surveys our scene.