Dogbad 15
April 30th, 2013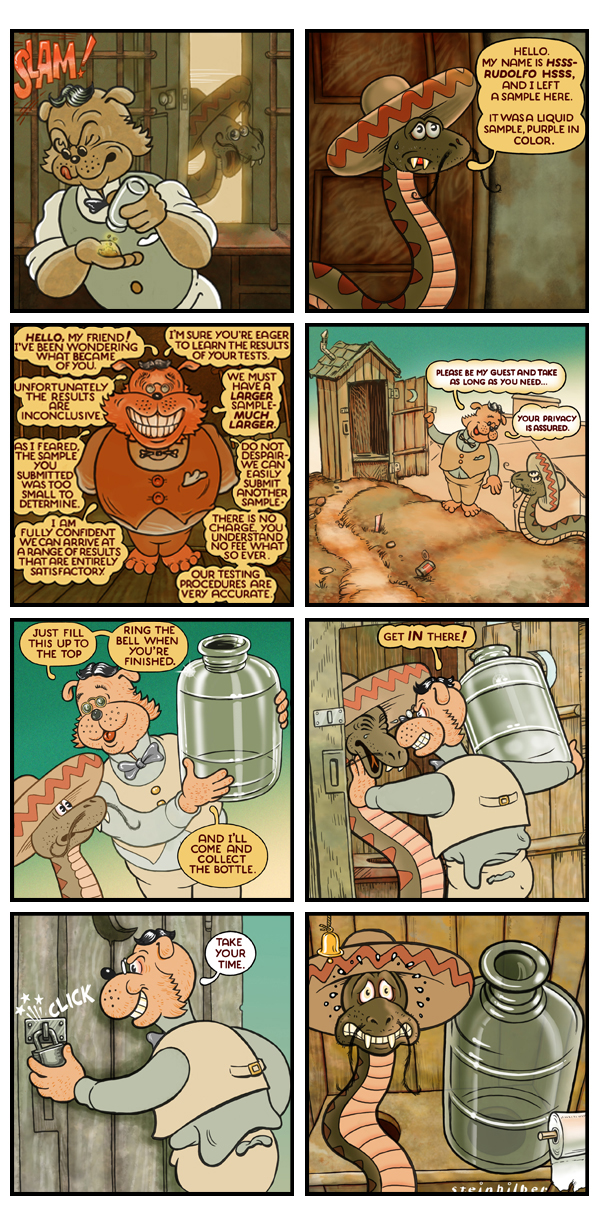 Dogbad 41 – "If urinalysis, what's that make me?"
1.The town's Assayer Mister Wurlitzer has identified a high content of native gold in Señor Hsss' urine sample (see episode 11). Señor Hsss suddenly appears in the Assay Office (fleeing from the searching eyes of Discus Ted), Mr Wurlitzer is at first startled, but quickly puts on a phony grin.
2.Out of breath, Señor Hsss attempts to regain his composure while re-introducing himself to Wurlitzer:"Hello, my name is Hsss- Rudolfo Hsss, and I left a sample here. It was a liquid sample, purple in color."
3.Mister Wurlitzer: "Hello, my friend! I've been wondering what became of you. I'm sure you eager to learn the results of your tests. Unfortunately the results are inconclusive. As I feared, the sample you submitted was too small to determine. We must have a larger sample- MUCH larger. Do not despair- We can easily submit another sample. I am fully confident we can arrive at a range of results that are entirely satisfactory.There is no charge, you understand, no fee whatsoever. Our testing procedures are very accurate."
4.Mister Wurlitzer shows Señor Hsss to an outdoor privy behind the building. "Please be my guest and take as long as you need. Your privacy is assured."
5.He produces a huge ten-gallon jug for Señor Hsss to fill: "Just fill this up to the top, ring the bell when you're finished, and I'll come and collect the bottle."
6.Just in case Señor Hsss isn't getting the message, Mister Wurlitzer gently ushers him inside the outhouse…"Get IN there!"
7.Wurlitzer locks him in! "Take your time", he mutters with a wicked grin.
8.Señor Hsss is locked inside the outhouse alone with the jug! What to do, what to do?