46
July 2nd, 2013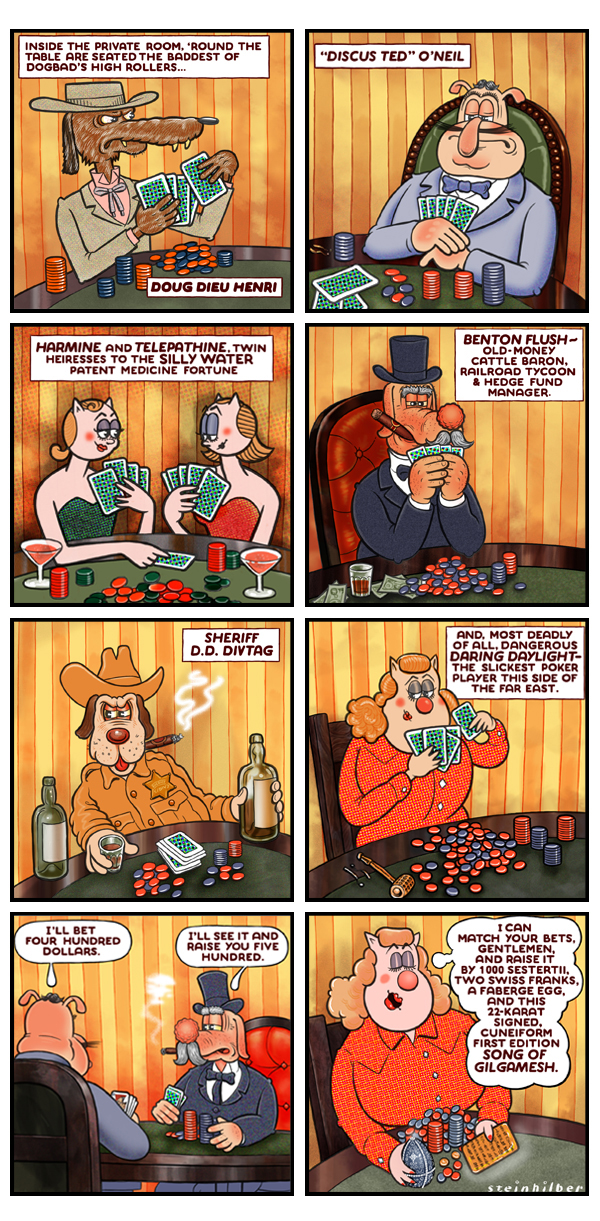 Dogbad 46 – Poker Dogs!
1. Upstairs at the Golden Derivative Guaranteed Safe Gambling Casino, inside a heavily-guarded private room, Dogbad's baddest high rollers are seated around a large green felt-covered gaming table. To our left among them we see Doug Dieu Henri (pronounced "dog-doo on rye"), a bestial gambler whose malevolent gaze intimidates anyone who dares make eye contact.
2. To our right sits the owner and proprietor of the Dogbad Saloon, "Discus Ted" O'Neil, spiffed out in his most costliest powder-blue silk suit. Discus Ted is stylin'! He's dressed to win.
3. Mostly ignoring the rest of the players are the twins Harmine and Telepathine, joint heiresses to the Silly Water patent medicine fortune.
4. Further up the table we see the old-money cattle baron and railroad tycoon, hedge-fund hobbyist Benton Flush. Mister Flush is keeping his own counsel while he dominates the room, playing his cards close to his chest.
5. Dogbad's foul-tempered Sheriff D.D. Divtag sits drinking and smoking a sour-smelling cigar.
6. Most deadly of all is dangerous Daring Daylight- the slickest poker player this side of the far east.
7. Discus Ted goes head-to-head with Mister Benton Flush: "I'll bet four hundred dollars." Mister Flush is equal to any challenge. "I'll see it and raise you five hundred."
8. Daring Daylight makes her move: "I can match your bets, gentlemen, and raise it by 1000 sestertii, two swiss francs (sic), a Faberge egg, and this 22-karat signed, cuneiform first edition Song of Gilgamesh."